Path of Exile: Update 2.6.0
R4PG Game Store
Date: Feb/14/17 00:32:40
Views: 3852
The developers behind Path of Exile, Grinding Gear Games about a week ago announced a release date for their next main update for Path of Exile, with players getting a welcome introduction to update 2.6. So far, there's only so much that GGG have revealed to the public in what they intend to release in this new update, but we'll get into that in just a moment!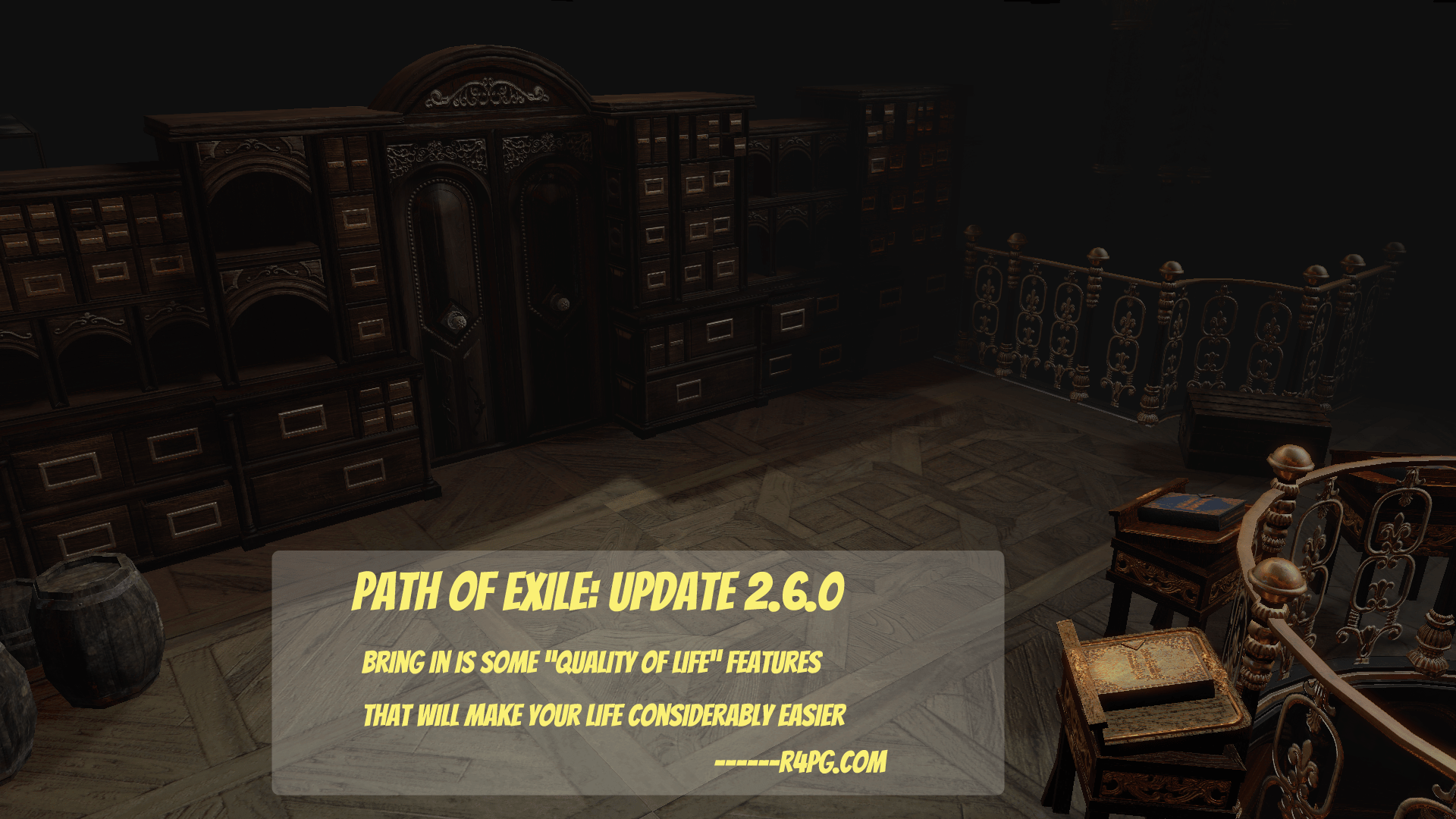 First of all, let's make a start on the one thing every gamer in the world always wants to know: release date. While some developers tend to be a little more subtle and promiscuous with their release dates, all so they can sneak in a few more days to develop it without letting anyone know; GGG have thankfully revealed that the release date is going to be set for the 16th February, 2017. By the looks of things so far the developers have the full intention of releasing the update as planned on that date, with as few issues as possible to the public.
One of the biggest changes this new update is going to bring in is some "quality of life" features that will make your life considerably easier in the long run, just by adding some of these very simple; yet useful additions. These new additions both involve a brand new search bar that you can use both in your friends list and your skill tree! Yes, that's right – you can finally search through your skill tree by doing nothing more than searching for the skill by name. So, if you've got yourself a mess of a build that you have absolutely no idea where certain skills are hiding, instead of hovering over each node individually, you can simply search it up and be taken straight to it. This is also the case in your friends list, so if you're someone who has plenty of different players on your friends list, you won't have to awkwardly scroll over them about 20 times before you eventually find them. Rather, you can simply search up exactly who you're looking for and you'll find them in less than a few seconds of opening your friends list; an extra that many players are bound to enjoy.
Something a sub-section of players are well and truly going to appreciate is the official addition of something called Solo Self-Found (SSF); an area of the game that players only participated in "honour", where honesty was the only factor to prove you were playing this self-imposed challenge.
For those who don't know, SSF is a style of play where you don't trade with other players, you don't party up with anyone, and simply play completely by yourself, for yourself – with nothing but the game and your wit to help you in your endeavours. For players who don't enjoy trading or being with others, this self-imposed restriction was the most fun way to play the game. With this new update, there is going to be an option when you select on a character to turn on SSF; this is going to disable the ability to party (except in PVP) and will prevent them from being able to trade, except with a vendor.
With this new inclusion it will mean that the SSF League will no longer be based off only an honour system and those who are at the top of the table really are playing their characters completely solo to be the very best!
Again, by the looks of things GGG are looking to keep some of their tricks under their sleeve, due to the fact that they've only teased some of the main features in this current update. We as a player-base won't get to see 100% what the update has in store until the official release date and the detailed update notes are let loose, but for the time being this is the majority of the update that has been shown off to players and I'm sure I'm not the only one looking forward to this brand new update.
More Path of Exile: Update 2.6.0 are coming. Please stay with R4PG.com where you can use discount coupon code "R4PG-POE" for 3% off when you buy POE Orbs and POE Currency service.